This is my last week of my grad class (RDG 656)…. everything is due on Sunday.  I finally got caught up on Week 2 and Week 3 assignments I'd skipped, and now just have my final case study to put together.  I am skipping the screencast we are supposed to do…. powerpoint plus creating the screencast.  Lots of work for just 15points.  I'm probably going to end up with a C in the class, but I'm not worrying about it.  I typically get A's, some B's.  I'm just so unmotivated right now.  So much else on my mind… being excited and anxious for Baby Sis' arrival but also hoping I get everything done before she is here.  I just feel like I have so much to do!  Most of it comes down to financial things… getting my taxes ready for my accountant so he can hopefully be speedy quick and CROSS.MY.FINGERS we get a decent return.
We sold my van Wednesday.  We came across a great deal on another van (yes… ANOTHER VAN… iiiiiccccckkkk) that my grandma's friend was selling.  Its a few years newer than mine, in excellent condition, has half the miles, has a hitch (BONUS for if we ever get a hybrid camper!), stow and go and power doors.  So, it's an upgrade.  I don't love it.  I'm not that excited about it.  It's a van.  Ick.  I wish I were getting a sweet SUV or something like that…. BUT… there is nothing equivalent to this great of a price, these specs, in an suv.  I've looked, believe me.  Plus… I drive 40+ miles a day for work and gas efficiency is important.   We're just waiting on the loan to come through and hopefully we'll pick it up next week.
What I'd really love?  Is a crossover.  Captain's chairs in the middle, please.  Oh and a nice, deep, rich color like a mocha brown, or deep charcoal grey or black.  🙂
Like the Chevy Traverse…
Or the Buick Enclave.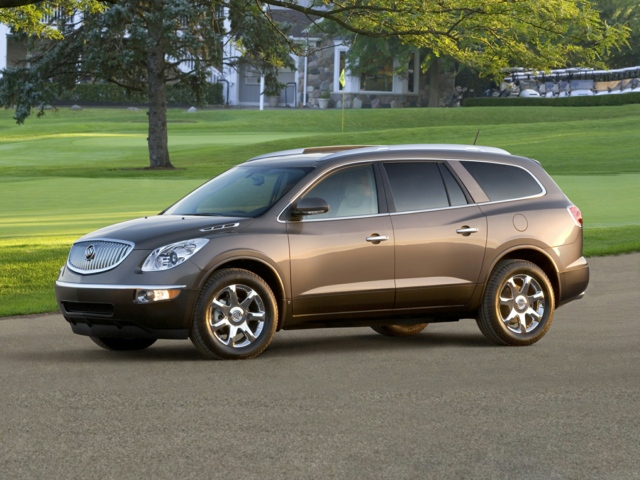 Or the GMC Acadia (though I know FOUR people in my immediate group of friends with Acadias LOL!  Car of choice right now, I suppose? So, this would be third choice on my list of Cars-I-Want)
Aaaaand… if money were not an issue?  I'd loove a Suburban.  I had a brand new one as my "nanny vehicle" when I was in college and I LOVE LOVE LOVED it.  I
OOooohhhkay, that's enough dreaming for now.  🙂  'Tis not going to happen anytime soon.  I'm a cheap-o mini-van driving mama for now, because that's what's in the budget.  BOO!   
So, tell me your "Dream Vehicle" of choice today!